A very Merry Christmas to all our friends in drama around the country. We have made it through another difficult year onstage and off, and the spirit of resilience within our drama community has been evident throughout 2021, as groups took to the stage again, outdoors and in local venues. That resilience was captured again and again in all our 2021 newsletters. Let us hope that 2022 brings the better times that we all deserve.
The DLI Office in Dundrum closes today, reopening on Tuesday 4 January 2022.  office@dli.ie
Message from Willie O'Brien, DLI Chairperson
Many of you will still be on a high after the outstanding One Act Finals in Ennis. What an uplifting weekend. Congratulations to the Open winners, Butt Drama Circle and Confined winners, The Phoenix Players Tubbercurry on their fantastic productions.  Bernie Harten and her team must be applauded for bringing off a memorable Drama at Ennis in these difficult times.
Congratulations also to Mairéad Broderick and Ollie Kenny and all the members of the ADCI/DLI Joint Committee for ensuring that the One Act circuit took place this year. The festivals around the country managed to overcome the various restrictions and organised safe venues which were still as friendly and hospitable as in previous years. The financial support given to all the festivals this year by the ADCI was a great boost.
Speaking of finances, the DLI (along with the ADCI and AIMS) was delighted to get a financial boost from the Arts Council earlier this year. As you will know from our Newsletter, these funds were put to good use immediately to ensure that we had a very successful and safe 2021 DLI Summer School, thanks to Ollie Kenny and his team. We also had a number of workshops throughout the country as well as starting our ongoing playwriting project. Look out for more workshops and our Winter School with Blue Raincoat in Sligo in 2022.
Thanks to Valerie for all her hard work over the year and for keeping us in touch and informed through the DLI Newsletter. Thanks also to the hard working members of the DLI Board. Our hearts went out to board members Mary Newman and John Lennon of the Moat Club when we heard that they had to withdraw from the All-Ireland at the last moment due to Covid.
In the meantime, we are facing into the Omicron tunnel, with all the uncertainties that it brings. It is important that we look out for each other and support our local groups and festivals. DLI will continue to offer its support to you all, as we have done since the beginning of the pandemic.
Happy Christmas and a very happy New Year to all our members and friends.
Drama at Ennis 3-5 December
What a weekend in Ennis at the 2021 All Ireland One Act Finals – from the opening ceremony in glór, when Ireland's First Woman, Sabina Higgins, gave a warm and spirited welcoming speech, to the closing stages on Sunday night, with 11 great plays in between, Festival Director Bernie Harten and her committee left nothing to chance when it came to organising a festival to remember. While observing all Covid protocols, they ensured that all present received the warmest of welcomes to Ireland Tidiest Town(!). The lively and friendly atmosphere endured over the three days, as friends were reunited, and the ever important task of picking the winners was the main topic of conversation each night!!
Photo from www.president.ie, as Mrs Higgins is joined by Festival Director Bernie Harten & Festival Secretary Jackie Scanlan.
THE WINNERS!
🎭All Ireland One Act Finals Results 2021 🎭
WINNER OPEN – Butt Drama Circle, In Other Words by Matthew Seager
2nd – Rasper Players, Naomi in the Living Room by Christopher Durang
3rd – Gunpowder Productions, This is a Play by Daniel MacIvor
WINNER CONFINED – Phoenix Players, Plaza Suite – Visitor from Hollywood by Neil Simon
2nd – Navan Theatre Group, Normal by Caitriona Daly
3rd – Roscommon Drama Group, A Galway Girl by Geraldine Aron
Harlequin for Best Actor Open – JC Bonar, Butt Drama Circle
Fr. Patsy Young Award for Best Actress Open – Alice Gildea, Butt Drama Circle
Best Actor Confined – Tom Holian, Roscommon Drama Group
Best Actress Confined – Terri Brennan, Phoenix Players
Adjudicator's Award (Innovation and Creativity) – Réidín Dunne, Michelle Reade, Stephen Acton – Rasper Players
Adjudicator's Award – Clodagh Whelan, Gunpowder Productions
Adjudicator's Award –  Réidín Dunne, Rasper Players
DLI Summer School Scholarship – Katy Leech, Navan Theatre Group
DLI/ADCI Playwriting Award (in association with The Ramor Theatre) – Mark Yeates with his new one act play Love the Pole. 
All Ireland Open Winners Butt Drama Circle
L-R Director Monica Doherty, JC Bonar as Arthur, Finals Adjudicator Geoff O'Keeffe, Alice Gildea as Jane. Butt DC's All Ireland winning play was InOther Words by Matthew Seager.
Photo Joanne Keane
All Ireland Confined Winners Phoenix Players Tubbercurry
L-R Padraic Gillespie (Sound) Lorraine Fitzgerald (Waiter), Terri Brennan (Muriel Tate), Director Tom Walsh, and Frank Brennan (Jesse Kiplinger). Phoenix won the title with Plaza Suite – Visitor from Hollywood by Neil Simon.
2021 FINALS FESTIVAL DIRECTOR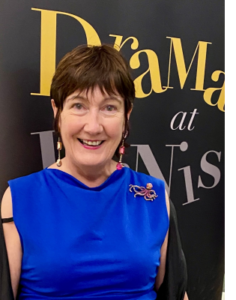 Drama at Ennis Festival Director, Bernie Harten
Photo Joanne Keane
Taking to the Stage..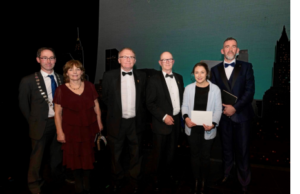 L-R ADCI Chairman Coman Keaveny, Joint Committee 6&6 Chairperson Mairéad Broderick ADCI,  6&6 Secretary Ollie Kenny DLI, DLI Summer School 2022 Scholarship winner Katy Leech (Navan TG), Finals Adjudicator Geoff O'Keeffe
Photo Martin Kiely Burren Photography
DLI/ADCI PLAYWRITING AWARD 2021
Mark Yeates, winner of the 2021 DLI/ADCI Playwriting Competition with Love the Pole, in association with the Ramor Theatre. Mark is pictured with Ramor's Padraic McInytre.
We offer our sincere thanks to Chairman of the Judging Committee, Walker Ewart, and judges Anne Mekitarian (DLI) and Trish Keane (ADCI).
Photo Martin Kiely Burren Photography
And Finally..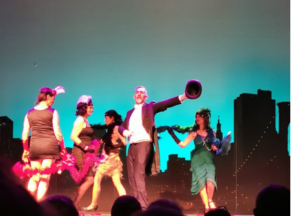 Finals Adjudicator Geoff O'Keeffe channelled his Greatest Showman when he joined the Ennis Players dancers on Sunday night!
Photo Elaine McLoughlin
Connaught Cup
Connaught Cup Competition
The Connaught Council of the ADCI regrets to announce that it is not in a position to host the Connaught Cup Competition in Spring 2022.This competition was reintroduced in 2020 for Groups doing full length productions for their local community who do not participate in the Full Length Festival Circuit. The competition had to be abandoned in March 2020 due to the impact of COVID 19, as indeed had the Full Length Festival Circuit. Unfortunately, it was not possible to host it in 2021 and, as stated above, we are not in a position to host it in 2022 either. However, The Connaught Council wishes to reassure all those Groups interested in participating that we are committed to hosting the Connaught Cup in 2023.The details of the competition will be announced in early Autumn 2022.
Meanwhile, we extend every good wish to all Groups undertaking Full Length Productions for their local communities in the current drama season.Marie Loftus,
Secretary,
Connaught Council ADCI 
MINI MOVIES on 19 DECEMBER
In Spring 2021 Rush Dramatic Society ran a playwriting course for its members to keep the creative juices flowing. The output from those classes was a series of short (600 word) mini plays. 10 plays were shortlisted from the 20 produced and these 10 were subsequently filmed by BMedia Productions with the financial support of Fingal County Council Arts Department.
The result is an hour long screening of these 10 Millbank Minis based on the Fishamble Tiny Plays Model.
As a fundraising event for the Millbank this Movie is being STREAMED from the 19th of December at 20:00
TICKETS here: https://millbanktheatre.ticketsolve.com/shows/873629106
We hope you enjoy the Movie!!